Dundee 'social prescribing' scheme awarded £150,000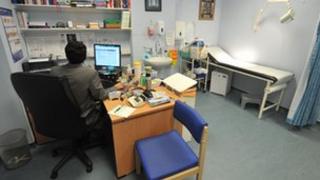 A Dundee pilot scheme where doctors prescribe non-medical support has been awarded £150,000 from the Scottish government.
The "social prescribing" initiative aims to improve patients' mental health and wellbeing.
It sees GPs refer patients to community activities such as physical activity, learning new skills, volunteering, art therapy, befriending and self-help.
The funding will see the pilot extended to two medical practices in Dundee.
NHS Tayside said the city's existing Sources of Support (SOS) social prescribing scheme has operated in Maryfield Medical Centre for the past two years and has referred more than 170 patients.
The SOS scheme found that most patients using the service were referred to more than one source of support and more than 100 different organisations and activities have now established links with the programme.
The Scottish Government funding of £150,000 will fund two full-time link workers to provide the SOS service at the Mill and Whitfield GP practices.
Preventing problems
Dundee Community Health Partnership strategy and performance manager Lucy Rennie said: "Social prescribing for mental wellbeing develops an alternative and complementary response to mental distress aside from medication.
"It can also be used as a preventative measure for people with non-clinical worries or concerns to avoid them becoming unwell in the first place.
"Significant improvements in mental wellbeing have been achieved through the social prescribing approach that has already been taking place in Dundee, along with increased uptake of services and activities for people who are often excluded or marginalised."
She added: "Social prescribing recognises the influence of social, economic and cultural factors on mental wellbeing, as well as improving access to mainstream services and opportunities for people with long-term physical or mental health problems."
Public Health Minister Michael Matheson said: "Person-centred care not only addresses clinical risk factors but helps people become healthier by tackling some of the social barriers that they may experience such as debt, housing issues or social isolation.
"Evidence shows people in poorer communities are more likely to experience a range of barriers and this project gives comprehensive support, beyond what a GP can offer, to help people make positive choices for their health."