Stirling to become first UK city in more than 10 years to link with Turkey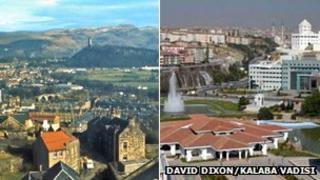 Stirling is to become the first UK city in more than a decade to establish a sister city agreement with Turkey.
The twinning agreement between Stirling and Kecioren will be signed today.
The mayor of the Kecioren, a district of Ankara province, will meet Stirling Provost Mike Robbins at the council chambers to sign the historic tie.
Stirling is already twinned with Villeneuve d'Ascq in France, Dunedin in USA, Summerside in Canada and Obuda in Hungary.
City officials said the benefits of establishing the link included the potential to attract new goods and services to central Scotland as well as developing educational, cultural and tourist ties between Scotland and Turkey.
The formal agreement builds on links already established between Kecioren and Stirling University.
Kecioren is currently a sister city to Tainan in Taiwan and Gorazde in Bosnia-Herzegovina.
The last friendship agreement signed between a UK and Turkish city saw London link up with Istanbul.
That was established more than 10 years ago.