Abertay University launches Dundee's Sistema Scotland campaign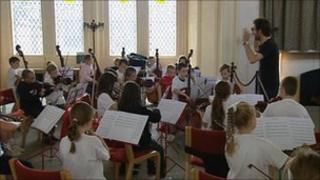 A campaign to bring the Sistema Scotland orchestra to Dundee is being launched at Abertay University.
It is being headed by the family of the late Michael Marra, who had wanted to establish a Dundee Big Noise orchestra.
The campaign will get underway at a concert at the university's Hannah Maclure Centre art gallery.
Audience members are being asked to sign postcards which will be used to call on Dundee city Council for its support.
Sistema Scotland has said it was "keen to start working in the city but there are no firm plans at the moment".
Clare Brennan, curator of the Hannah Maclure Centre at Abertay University, said: "The impact of the project for future generations in the city would be absolutely incredible.
"As Dundee prepares its strong bid for UK City of Culture 2017 it's clear that projects like Sistema Scotland can reach out right across our city, and leave an amazing cultural legacy."
Michael's daughter Alice, who is one of the performers at the concert, said: "Sistema Scotland offers an incredible opportunity to young people and my dad was really keen to encourage the project to be brought to Dundee."
Musical opportunities
Audience members will make donations on the night and all proceeds from the concert will go towards the Marra family's appeal to start a Sistema Scotland Big Noise orchestra in Dundee.
More than £12,000 has already been raised.
The first centre is in Raploch, Stirling, and has given hundreds of children access to musical instruments and the opportunity to learn musical skills for life.
The programme uses music and the experience of being part of an orchestra to help improve long-term outcomes for children and families experiencing disadvantage.
It aims to foster confidence, teamwork, pride and aspiration in the children taking part and engage whole families and the wider community.
Last year, the Big Noise Raploch project performed in Stirling with 200 Venezuelan musicians from the Simon Bolivar Orchestra, led by world-famous conductor Gustavo Dudamel.