Teenagers with learning difficulties make game in four hours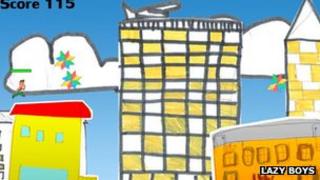 A Dundee computer game maker has worked with young people with learning disabilities to create a new game in just four hours.
It was designed as part of efforts by designers Guerilla Tea to dispel myths about working in the sector.
Working with Enable Scotland, the programmers tried to encourage the youths to consider careers in gaming.
The collaboration resulted in the game "On the Freerun", which has now been released for download.
The game features a "freerunner" called Norman who sprints across roof tops trying to avoid hostile elderly people.
Guerilla Tea, who are firm of game designers made up of graduates from Abertay University, said the project was developed after working with Enable Scotland's East Renfrewshire Local Area Coordination Team.
The Dundee-based company said it was the first of its kind for the games industry.
Career for all
Charlie Czerkawski, from the firm, said: "We wanted to show the kids and the adults, the concepts of making a game, the software, some of the processes of game development and at the end have a game with their names on the credits."
"We were really promoting that game making is a viable career option, for anybody. It is certainly not cut off or elitist."
The project was run through two workshops; the first saw the group of young people develop the concept, while the actual game was created in the second.
Those youths interested in the programming side of game making were given support from one of the company's coders, while the more artistically inclined helped develop the graphics.
Mr Czerkawski said: "There were a lot of good ideas, we collated them all into one and by the end of the day we had the concept.
"We put this idea together and built a basic frame work and were able to bring it together with the youths' ideas and artwork.
"It was remarkable; the game was actually put together in four hours, which is a record time."
Dougie Purves, Service Leader with Enable, said: "We identified that many of the young people we engage with have an interest in the games industry and were really keen to give them the chance to find out more about this field and the training and employment opportunities that exist in Scotland.
"This was a unique experience for everyone who took part. The feedback from participants has been overwhelmingly positive. We are so grateful to Guerilla Tea for making this possible."
Mr Czerkawski said he felt the experience may have sparked an interest in game making among several of the teenagers.
He added: "Some of them really took to it very quickly; with just a bit of practice and maybe a Christmas present in the form of software, some of them could really go ahead and at the very least make a good hobby out of it, if not more."