Clackmannanshire Council leader warns of 'bedroom tax' fallout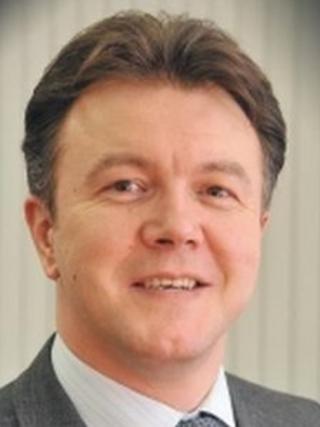 The leader of Clackmannanshire Council has said the authority is braced for the "devastating fallout" it expects changes to the welfare system to bring.
Councillor Gary Womersley said the council "would be the ones left to pick up the pieces" by the controversial under-occupation penalty.
The so-called "bedroom tax" will be introduced from 1 April.
Families on housing benefit will be assessed for the number of bedrooms they actually need.
The government argues the changes will help cut the £23bn annual bill for housing benefit, free up more living space for overcrowded families and encourage people to get jobs.
The new rules will affect housing benefit which is paid to less well-off tenants to help with rent.
Families deemed to have too much living space by their local authorities will receive a reduced payment.
Councillor Womersley said the legislation would have a real and long-term damaging effect on many of the most vulnerable in society and put even more strain on local government services that are already creaking under pressure.
He said: "It is ironic that the first batch of these welfare and benefit reforms come into force on April Fools' day, because, believe me, there is nothing remotely humorous about them.
"Our role in this is to manage the consequences in the way that does the least possible damage to our communities and that will be a very, very difficult task.
"No part of my speaking out on this issue should be seen as a suggestion that we do not embrace change or that we do not recognise the need for some change within the current system. Indeed we've shown at Clackmannanshire Council we can both improve services and reduce costs."
He added: "Sadly, what is actually being proposed in terms of welfare reform and the damage it will do is both extreme and ill-thought out.
"The huge damage it will do to our communities is not something that I can support, and nor should others."
The authority's housing, health and care committee has already unanimously agreed an emergency motion that the council "oppose the bedroom tax."
Negative effects
It voted that "this council will do everything it can to mitigate the negative effects of the bedroom tax.
The committee also agreed that "in addition, this council resolves that for a transitional period of one year, where the appropriate senior officer is satisfied that tenants who are subject to the bedroom tax are doing all they reasonably can to avoid falling into arrears, it will use all legitimate means to collect rent due, except eviction."
The motion will go before the next meeting of the council on 16 May.
The Department for Work and Pensions has insisted that the changes are required to bring "fairness back to the system - when in Scotland there are many thousands on housing waiting lists or living in overcrowded homes".