Carbon capture: Peterhead and Drax preferred bidders in £1bn contest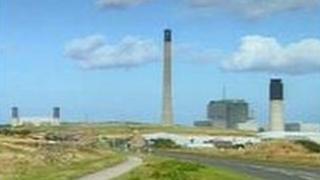 Peterhead and Drax have been named as the two preferred bidders in the £1bn competition to encourage the development of carbon capture and storage technology.
The UK government selected the gas-fired power station at Peterhead in Aberdeenshire and the coal-fired power station at Drax in North Yorkshire.
Energy Secretary Ed Davey said it was a "significant step".
He explained: "We had four excellent bids."
Grangemouth and the Teesside Low Carbon Project had submitted the two unsuccessful bids.
Peter Emery, production director of Drax Power, welcomed the announcement for Yorkshire.
"These are big projects that don't happen overnight. It is another step in the right direction but it won't happen tomorrow."
The Drax scheme could mean up to 2-3,000 construction jobs and between 60-100 jobs long-term, Mr Emery said.
At Peterhead, Shell and SSE are behind the plans.
Greenhouse gas would be transported to the Shell-operated Goldeneye gas field in the North Sea using, as far as possible, existing pipeline infrastructure.
WWF Scotland's senior climate policy officer, Dr Sam Gardner, said: "It's great news to hear that Peterhead has made the final two in the government's competition to win funding.
"Demonstrating carbon capture on this existing gas power station would enable us to test the technology and cut emissions from our energy sector whilst we transition to a renewable future."