Contractors fined after pearl mussel colony destroyed on River Lyon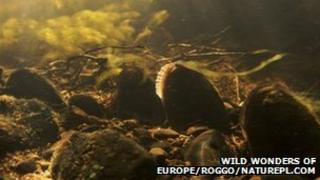 Two contractors whose attempts to build green energy projects caused massive pollution in a pair of Scottish rivers have been fined a total of £11,000.
Alan Smith and Charles Kippen admitted causing damage to a river which will take hundreds of years to recover.
Work on a hydro-scheme on the River Lyon in Perthshire destroyed an internationally important colony of protected freshwater pearl mussels.
At Perth Sheriff Court, Smith was fined £6,000 and Kippen £5,000.
The court heard that in a matter of months the pair managed to cause the equivalent of "hundreds of years" of pollution.
Silt pollution
The work to the River Lyon was so disastrous that the basic repair bill ran to almost £1m.
Smith also admitted a second charge relating to the impact of work being carried out on a Hydro Project at Dalmally in Argyll, which damaged some of the most important salmon spawning burns in Scotland.
Both men had admitted destroying the colony of protected freshwater pearl mussels during work on the hydro-scheme on the River Lyon to produce electricity for 600 homes.
Several kilometres of the river was badly damaged and the silt pollution level was almost 40-times higher downstream of the works than it was upstream.
Smith, 48, from Crieff, is a director of sub-contractor A & C Construction, and Kippen, 52, from Stanley, Perthshire, is a director of Chic Kippen & Son.
Smith's lawyer Jamie Morris said: "Mr Smith deeply regrets the environmental consequence caused in this case. It's extremely regrettable that the thought processes proved to be inadequate.
"He has to accept legal responsibility for these environmental consequences."
Mr Morris said the company the two men jointly operated had since been liquidated with debts of £143,000.
'Globally endangered'
Fiscal depute Tom Dysart told the court that the river contained freshwater pearl mussels which were "largely extinct and listed as a globally endangered species".
Mr Dysart said the mussels living in the river were of "international importance" and had been wiped out despite the contractors being "well-aware" of the environmental sensitivity of the site.
Reacting to the fines, Craig Harris, procurator fiscal wildlife and environment, said: "These pollution events stained Scotland's beautiful waters.
"These convictions should send out a strong warning to any other businesses who fail to carry out their activities in accordance with our environmental laws."
Scottish Environment Minister Paul Wheelhouse said: "Scotland's rivers are a stronghold for freshwater pearl mussels, containing as much as half the entire global population.
"We therefore have a duty, not just to Scotland but to the rest of the world, to protect this internationally significant and endangered species."
According to Scottish Natural Heritage, 72 of Scotland's rivers support reproducing populations of freshwater pearl mussel including many of the world's largest populations. The species is one of the most critically endangered molluscs in the world.
Iain Sime, SNH's freshwater pearl mussel expert, said: "This case shows how easily someone can cause a huge amount of irreversible damage. There is plenty of best-practice guidance out there."
Smith and Kippen were given more than eight years to pay their fines.