Former Stirling forestry worker jailed for molesting girls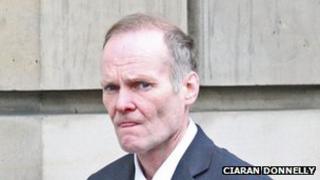 A former forestry worker has been jailed for five years for molesting girls in Stirling.
The High Court in Edinburgh heard Robert Marshall had sneaked into a bedroom at a house in Plean and indecently touched the youngsters.
Marshall had denied interfering with girls aged between four and nine, and making the oldest girl perform a sex act on him.
But the jury found the 52-year-old guilty of all charges.
The court heard how Marshall had been staying at the house in Plean and had crept into the girls' bedroom.
Rough hands
One victim, who was only five years old at the time, told the High Court in Edinburgh that Marshall's rough hands had given him away.
She said that she had felt his hands under her covers.
Marshall had accused the girl of lying.
He told the High Court in Edinburgh that he always wore heavy duty gloves while working as a woodcutter and the safety equipment kept his hands "quite smooth" despite his manual outdoor labour.
The 52-year-old was also found guilty to taking the four-year-old girl from her bedroom, while wearing only her nightclothes, and allowing another unknown man to abuse her while others watched.
The court heard that Marshall, from West Plean, Stirlingshire, had worked as a woodcutter after a court martial had discharged him from the Army for a series of assaults but he has had no convictions since then.