Man admits cultivating cannabis farm in Coupar Angus flat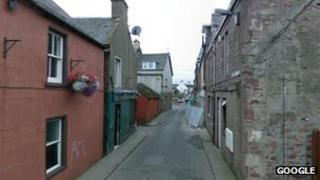 A Chinese gang member has admitted growing cannabis plants with a potential street value of £350,000 at a Perthshire flat.
Yan Ping He admitted cultivating growing 700 cannabis plants between November and December last year.
Perth Sheriff Court was told the 26-year-old had acted as the "gardener" at the flat in Athole Street in Coupar Angus, until it was raided.
Sentence was deferred on He for reports.
The court was told that the gang drew attention to themselves by loading and unloading lots of large cardboard boxes at odd times of the day and night.
Drug farmer
The 26-year-old was an illegal immigrant who had been picked by the gang to act as the gardener at the cannabis farm located in the unlikely surroundings of Athole Street, Coupar Angus.
Perth Sheriff Court heard that He, who had previously been arrested but then let go by the UK Border Agency, was looking after 663 plants when the flat was raided.
Fiscal depute Charmaine Cole said: "On 16 December police and the landlord went to the property. The windows had been covered with black carrier bags.
They noticed a strong smell of cannabis coming from the house."
Miss Cole told the court that a cordon was set up and He arrived back at the house and appeared to be "trembling" when he saw the officers.
Sophisticated system
She added: "When he was arrested and processed they took fingerprints. He had an arrest marker as he had failed to comply with a temporary release licence issued in August 2010 by the UK Border Agency.
"Officers found a large scale cannabis cultivation within the flat. There were 663 plants at various stages of maturity. There was a sophisticated heating and ventilation system in the property."
Yan Ping He admitted being concerned in the cultivation of cannabis at the flat between 1 November and 16 December last year.
A Tayside Police source said: "The smell of the cannabis was wafting as far as the High Street so it wasn't exactly subtle."