First sections of the Kelpies are delivered to Falkirk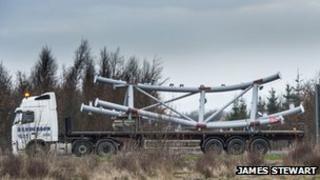 The first sections of two large sculptures, which will transform the Falkirk skyline, have arrived on site.
Known as The Kelpies, the 300 tonne steel-plated horse heads will be put together over the coming months, with the work expected to end in September.
The 30m high statues were designed by Glasgow-based sculptor, Andy Scott.
Once completed, they will form part of the Helix project; a scheme which aims to regenerate 300 hectares of land between Falkirk and Grangemouth.
The new sections have been fabricated by contractor, SH Structures, at their yard in Sherburn-in-Elmet, North Yorkshire.
The first pieces to be delivered are the key structural framing sections for the Head Down Kelpie onto which stainless steel external plates will later be fixed to achieve Mr Scott's vision.
About 100 individual deliveries of Kelpie components to the Helix site will take place over the next four months.
The manufacture and delivery programme for The Kelpies sections coincides with the onsite works being undertaken by Balfour Beatty Civil Engineering, who are currently constructing the massive foundations for the sculptures.
The foundations, each weighing 1,600 tonnes, are supported by 32m length piles fixed into the rock.
Mr Scott said he was delighted to see the first sections arrive.
Significant step
He said: "This is a huge step towards their construction and will really begin to generate excitement and a sense of anticipation around the project.
"This phase marks the culmination of years of hard work, most recently by SH Structures and the dozens of professionals involved in their design, and I really look forward to seeing The Kelpies rise from the ground at The Helix site."
Mike King, programme director for the Helix, said: "It has been hugely impressive to see the fabrication and assembly process at SH Structures' yard.
"It emphasises just how significant an undertaking this is in terms of the collaboration with artist, designer, contractors, and manufacturer."