Dundee Falklands War veteran launches World War II site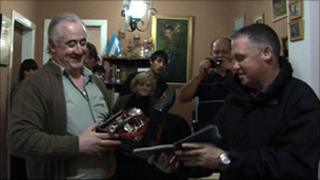 A Falklands War veteran has launched a new website where people who lived through World War II can upload their personal accounts of the conflict.
Tony Banks, from Dundee, served with 2 Para and later went on to start care home business Balhousie Care Group.
Residents at some of the homes have been among the first to appear on Mr Banks' World War II Video Memories.
He hopes others, with the help from family and friends, will also upload their stories to the site.
Locations relevant to the memories are plotted on an interactive map of the world.
Mr Banks, 51, said the project was the first of its kind, but faced a race against time.
He said: "With every week which passes, the wartime generation grows smaller, and unique memories correspondingly disappear.
"Whether the memories recount the horror of conflict or the realities of life on the Home Front, I hope that people from across the world will grab their smartphones and take the opportunity to film and document the memories of older generations."
Mr Banks saw action at battle of Goose Green in 1982 during the Falklands War against Argentina.
The young paratrooper later confiscated a trumpet from an Argentinean prisoner of war and kept it as a war trophy.
In 2010, Mr Banks returned the musical instrument to its owner Omar Rene Tabarez.