Applications to volunteer at the Ryder Cup hit 9,000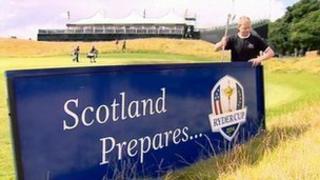 Ryder Cup organisers say more than 9,000 people have come forward to volunteer at the event, more than five times the number required.
Half the volunteers are from Scotland. The rest are from countries as far afield as the US and Equatorial Guinea.
Organisers said the numbers showed the "excitement" there was for the event.
The STUC had criticised the scheme for attracting "middle-class golf fans" rather than providing jobs for local people.
Ryder Cup Europe director Richard Hills said: "We are extremely excited by the prospect of bringing the Ryder Cup to Scotland and this demonstrates the strength of interest and excitement in the event, particularly amongst the Scottish public."
Volunteers will fill roles such as scoreboard carriers, safety marshals and merchandise sellers and are required to pay a £75 fee to cover the cost of clothing and food.
The STUC's assistant secretary, Ian Tasker, has called for the jobs to be offered as paid positions to "provide some step-up to individuals in these communities that might see them making that journey into long-term employment".
The Scottish government has estimated the Ryder Cup will generate an estimated £100m for the local economy in the week of the tournament.
Volunteers can still apply until midnight on 14 April. The event takes place in September 2014.