Gleneagles Ryder Cup volunteer plan 'unacceptable'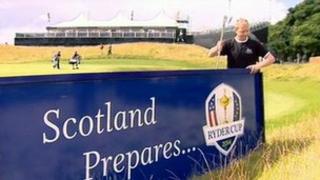 Plans to recruit 1,800 volunteers to work at the Ryder Cup have been branded "unacceptable" by the Scottish TUC.
Volunteers are expected to pay a £75 "registration fee" to work as scoreboard carriers and merchandise pavilion assistants.
Stephen Boyd, from the STUC, said the plan was not "spreading the supposedly massive economic benefits throughout the population".
The event takes place at Gleneagles in Perthshire in September 2014.
Mr Boyd said: "When I heard the news this morning, I couldn't quite believe what I was hearing."
Estimates by the Scottish government suggest the event will bring in around £100m to the local economy. About 45,000 spectators are expected to attend each day of the six-day challenge.
"You'd have thought this was a good chance to give young people a bit of work, especially given the current economic climate. Clearly these jobs are open to middle-class people who are interested in golf, and have the money to spend on the registration fee," continued Mr Boyd.
"It's really quite unacceptable, and no-doubt against the vision of what the Scottish government had for this event."
Ian Tasker, the assistant secretary of the STUC, told BBC Radio Scotland he would be urging the Scottish government to speak to the organisers about creating some paid opportunities which could "provide some step-up to individuals in these communities that might see them making that journey into long-term employment".
The Scottish government passed all inquiries to the Ryder Cup organising committee.
'Perplexed'
A spokesperson for The Ryder Cup said: "We are aware that the fee may dissuade some people, whatever their background, from applying. It is however a necessity based on decades of experience of running this unique event.
"Past volunteer programmes have been a huge success, have given thousands of people unique experiences, and have been drawn from all walks of life. It is a unique opportunity to be part of something special."
Volunteers have been asked to visit the Ryder Cup website to register their interest.
Hamish Gray, chief executive of the Scottish Golf Union - which works closely with event organisers European Tour - told the BBC: "The event brings in a huge amount to the Scottish economy in its own right, and that includes a lot of contractors and local people who will be working at the event.
"That said, I'm perplexed by the STUC comment because any sporting event - and the Ryder Cup is no different - relies on volunteer effort as well to augment those who are paid to be there, and it just simply wouldn't go ahead without that."