Hedgehog rescues rise due to cold snaps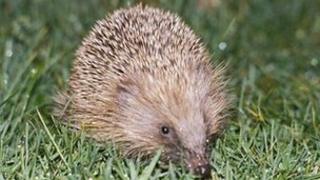 The number of hedgehogs being rescued by the Scottish SPCA has increased by almost 10% in the last 12 months.
The National Wildlife Rescue Centre in Clackmannanshire said 707 of the spiny mammals were taken in during 2012, compared with 647 the previous year and 650 in 2010.
The animal charity said the creatures had been victims of sudden cold snaps.
Already this year, the SSPCA centre at Fishcross is caring for 27 hedgehogs struggling with the low temperatures.
Staff said they were preparing to welcome more of the animals as forecasts for poor weather conditions continue.
Weather threats
Centre manager Colin Seddon said: "We think the sudden cold snaps we've experienced during what has been a relatively mild winter has caught a lot of these hedgehogs off guard.
"They may have thought it was warm enough to be out and then, when the temperature dropped suddenly, they were left vulnerable to the elements.
"Another factor is heavy rain spells as these will have washed some of the hedgehogs away from their nests."
He added: "We are continuing to take in hedgehogs due to the return of snow and freezing temperatures.
"They will really struggle in this weather, so if anyone spots a 'hog' they should call us immediately.
"The hedgehogs currently being rehabilitated here will be released back into the wild once they achieve a suitable weight of over 600g and there is a consistent night-time temperature of over 4C."
The charity said the increase in the number of hedgehogs rescued may also be due to greater public awareness about the animals and how the Scottish SPCA can help.