Weather warnings remain in place across Scotland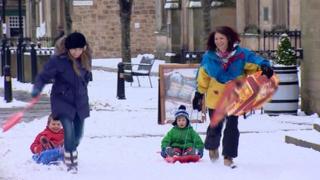 Weather warnings remain in place across Scotland as snow, sleet and ice is expected in parts.
A yellow warning has been issued by the Met Office for parts south west Lothian and the Borders.
The "be aware" warning is also in place across Strathclyde, the Grampians, Tayside, Fife and Central regions.
In Edinburgh a teenager was rescued after falling 150ft down a steep embankment in a sledging accident. The 16-year-old suffered a broken leg.
Fire crews had to attend the incident on foot at Blackford Hill as the fire engines could not access the area.
Strong winds have been pushing snow on to the east coast from the North Sea and forecasters predict this will continue into next week.
The Lecht ski centre in Strathdon, Aberdeenshire, was closed on Saturday due to heavy snow on the access roads.
A planned World Snow Day event at the Glenshee Ski Centre on Sunday has been cancelled.
Issuing a yellow warning for the east of Scotland, the Met Office said: "Further sleet and snow showers will lead to accumulations of snow in places away from the immediate coastal strip, with ice an additional hazard.
"A further 2cm to 6cm of snow could fall in a few areas.
"The public should be aware of the continuing poor travel conditions."
The Met Office said ice was the main problem for the Strathclyde area.
"Although some further slight snowfalls are likely, the focus switches to ice, with near or sub-zero temperatures persisting quite widely.
"This is particularly the case over existing snow cover, where some very low night-time temperatures are possible, should skies clear.
"The public should be aware of the risk of localised difficult travel conditions due either to existing snow cover, or to icy surfaces."
To access more information from your mobile, visit the BBC Weather and BBC Travel News sites.
The enhanced content on this page requires Javascript and Flash Player 9
Map Key
Land
Cloud
Lakes, Rivers & Sea
Fog
Light
Heavy
Frost
Light
Heavy
Pressure Fronts
Cold
Warm
Occluded
Rain
Light
Heavy
Extreme
Snow
Light
Heavy
Temperature tab only
Temperature (°C)
More details from BBC Weather