Alyth farmer John Ferguson banned from keeping animals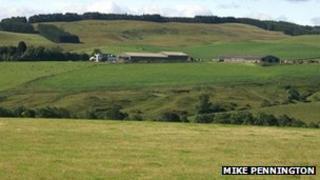 A landowner who left more than 350 sheep and cows to starve to death on his Perthshire farm has been barred from keeping animals for life.
Perth Sheriff Court heard the remains of the animals were found at John Ferguson's farm in Alyth.
Sheriff Lindsay Foulis said Ferguson's guilty plea meant he could only serve a maximum of two months in prison.
Instead, he sentenced the 50-year-old to 300 hours unpaid work and banned him from keeping animals.
The court had heard Ferguson simply left the animals to starve to death on the 700-acre farm.
Numerous skeletons
Following a tip-off, SSPCA inspectors found a scene of unparalleled carnage on his land.
They discovered the skeletal remains of 340 sheep and 14 cows.
The court was told that two thirds of the surviving herd of cattle were "extremely emaciated."
One cow had died giving birth and had simply been left with her dead calf's leg protruding.
Fiscal depute Catherine Fraser said: "On 23 February 2012, the SSPCA received an anonymous letter of complaint in respect of the farm.
"The farm inspection went ahead on 28 and 29 February, during which time the extent of mismanagement at the farm was discovered.
"The farm had over 1,120 sheep and a herd of 150 cattle. Many were emaciated. In some of the fields there was no access for the animals to shelter from adverse conditions."
Visible remains
She added: "There was little to no grazing across the farm. Across the farm, there were numerous animal carcasses in various states of decomposition.
"Those animals that had recently died were emaciated. Rings of wool were observed on fields where sheep carcasses had lain.
"In total, 340 sheep and 14 cow carcasses were removed to the knacker's yard. In a number of fields cattle in very poor condition were observed. The skeletons of the beasts were clearly visible."
The 50-year-old farmer and businessman left the dead animals on land at Welton of Creuchies farm in Alyth over a five month spell last winter.
He admitted two charges relating to the unnecessary suffering of beasts on his farm estate.
The farmer, who has a herd of 1120 sheep, failed to provide a suitable environment for his livestock between 1 October 2011 and 23 February last year.
He failed to remove 354 animal carcasses, having failed to provide adequate nutrition, a suitable diet or appropriate sheltered accommodation for his herd of cattle and flock of sheep.
Ferguson also admitted failing to protect the animals from injury, suffering or disease by failing to get them treatment for liver fluke and failing to monitor their welfare.