Perth's Black Watch museum seeks volunteers for reopening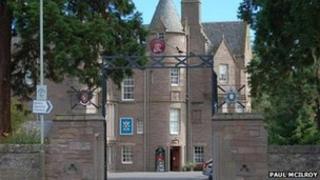 An appeal has been made for volunteers to help with the reopening of a Perth museum honouring the history of one of Scotland's most famous regiments.
The Black Watch museum at Balhousie Castle in Perth is currently undergoing a £3m revamp.
A new museum and archive is expected to reopen in the Spring.
Volunteers are being sought to fulfil a variety roles at the attraction, from working in the cafe to helping preserve the museum's collection.
The museum, which is based in the regiment's former headquarters, was closed for renovation work in August 2012.
An extension is being created that will provide a new café, shop and reception area. Storage for the collections is also being improved and an education space built.
While the work has taken place the entire collection has been packed up and moved to temporary storage.
Essential volunteers
The Black Watch museum said volunteers would provide a vital role in the new building.
Chief executive Alfie Iannetta said: "Our volunteers have always been at the heart of what we do, and when the redeveloped castle and museum opens they will be a key part of our moving forward.
"It's a really exciting time to get involved with the castle and museum, with new volunteering roles available. Hopefully there will be something for everyone."
The Balhousie Castle attraction is holding an open day on Wednesday to allow the public to see what roles will be available.
The museum houses a large collection devoted to the Black Watch, including uniforms, fine paintings, medals, photographs, diaries and military equipment.