Stirling signallers dispute prompts Scotland-wide ballot on strikes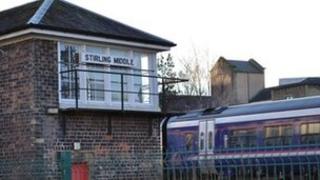 Railway signal workers in Scotland could vote to strike over a dispute over working patterns in Stirling.
The RMT union said hundreds of its members will be balloted on whether to launch a campaign of industrial action.
It follows an ongoing row with Network Rail and signallers in the Stirling area over proposals to introduce 12-hour shifts.
Network Rail has rejected the suggestion, saying it would add about £40,000 a year in operating costs.
The RMT has been calling for staff to be moved to 12-hour rosters, which would see the number of working days change from five to three but the length of shifts rise from eight hours to 12.
Long dispute
The union claims the move would deliver a safer and more efficient service.
However, Network Rail said the current working patterns were agreed in 2007 and a review of the shifts carried out jointly with the RMT found no way of implementing 12-hour shifts without significantly increasing costs.
The dispute has been ongoing for the last two years with signallers at Stirling Middle, Stirling North and Dunblane taking strike action on several occasions, including Christmas Eve.
RMT general secretary Bob Crow said: "Despite RMT making every possible effort to resolve this dispute through negotiation, we have met with nothing but a brick wall and broken promises from management and as a result we now have no option but to move to a strike ballot across Scotland.
"The ballot is currently being prepared and RMT will advise on the timetable in due course."
Increasing costs
Another round of industrial action has already been scheduled, with members in Stirling launching another 24-hour strike on Saturday.
A Network Rail spokesman said: "Meeting the union's demand that signallers begin to work fewer days each week would mean operating a less efficient and more expensive railway.
"We have made every effort to resolve this dispute, including the involvement of Acas.
"We have conducted detailed analysis of shift patterns, but cannot see how they can be changed without increasing operating costs by around £40,000 a year."
He added that Network Rail would continue to work with the union to find a resolution to the dispute, but said further spending was not an option.
"At a time of national economic restraint, we should be seeking to further reduce the costs of the rail network to the fare-paying public and taxpayers rather than increasing them," he said.