Teenager admits to dealing Ecstasy at T in the Park music festival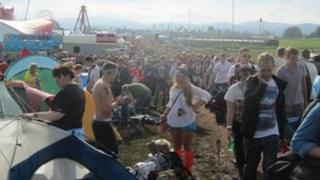 A teenage drug dealer boarded a coach in Liverpool so he could supply Ecstasy to the 24 passengers on their way to the T in the Park music festival.
Thomas Baker was part of a group heading north to last summer's music festival at Balado, near Kinross.
At Perth Sheriff Court, the 18-year-old admitted being concerned in the supply of Ecstasy at T in the Park on 5 July last year.
Sheriff Robert McCreadie deferred sentence for reports.
A solicitor told the court that Baker was supplying the Class A drug to people he was "closely associated with" on the bus as it headed for Kinross.
'Serious offence'
Sheriff Robert McCreadie said: "Normally, there is a straightforward reaction to anyone peddling drugs to young people at a music festival.
"Anyone who is stupid enough to bring a Class A drug and give it to other people commits a serious offence. To bring it to a music festival is utterly disgraceful."
Sheriff McCreadie said he wanted to know why Baker had taken on the role of being the party's "dealer".
"I want to know why he was dabbling in such drugs, where he got them from and what he intended to do with them," he added. "Was he making financial gain?
"If he paid for them in the first place then how was he going to recoup that loss? I am going to defer sentence for reports."