Dundee teenager locked up for unprovoked knife attacks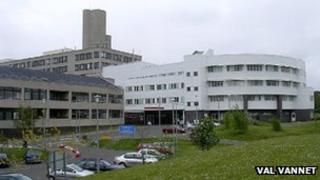 A teenager who stabbed two men who had been enjoying a night out in Dundee has been sentenced to four years.
The High Court in Edinburgh heard that 16-year-old Alec Hutchison plunged a blade into Neil Butchart, 30, and Marc Ritchie, 32, on 19 August.
Hutchison had pleaded guilty to assaulting Mr Butchart to his severe injury and assaulting Mr Ritchie to the danger of his life
Judge Lord Turnbull described the attacks as "calculating and callous".
The court had heard how Hutchison boasted about the attacks, telling one of his victims: "That will teach you for giving us dirty looks."
Advocate depute Richard Goddard, prosecuting, told how the two men had been in a pub and Mr Butchart had been to a football match with his girlfriend before joining the group in the 4Js bar.
Unprovoked attack
Mr Butchart and his partner left about 20:15 and passed a flat which had its windows open.
As they continued down Dundee's Ogilvie Street Mr Butchart was surrounded by a gang of youths and a girl accused him of looking through the window.
The prosecutor said the gang ran away and then Mr Butchart heard his girlfriend screaming.
He looked down and noticed his shirt was blood-stained. The accused was then seen standing nearby in possession of a knife with a blade estimated as measuring about 7 inches. He appeared to make no effort to hide the weapon."
Mr Butchart spent four days in Dundee's Ninewells hospital.
'Sharp pain'
The lawyer described how Mr Ritchie had left the 4Js pub before Mr Butchart to get some food when he was attacked in nearby Malcolm Street.
"Mr Ritchie recalls the accused, who he thought was a young boy, run towards him and then he felt a sharp pain in his stomach area."
He lifted up his top and saw a stab wound bleeding profusely and tried to keep walking but soon collapsed.
The court was told doctors found his bowel had been punctured and said the wound was serious and life-threatening and needed emergency surgery.
Dangerous boy
Sentencing Hutchison, Lord Turnbull branded him: "a very dangerous young boy."
The judge said the attacks on Mr Butchart and Mr Ritchie were unprovoked and the two men were strangers to Hutchison.
Lord Turnbull continued: "This conduct has very serious consequences for both victims but particularly for Mr Ritchie.
"A victim impact statement on his behalf makes it plain he still suffers in many different ways as a consequence of your behaviour.
"You may have ruined his life and it is fortunate for you and him that the consequences were not even worse because, were it not for the prompt medical attention which he received and the care he received in hospital he may have lost his life."