Teacher Caven Muirhead jailed for sexually abusing boys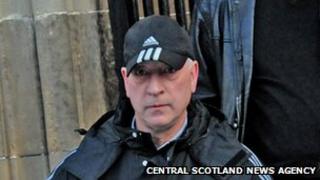 A primary school teacher from Clackmannanshire who sexually abused two of his boy pupils after taking them on holidays and trips has been jailed.
Caven Muirhead befriended his victims' parents and groomed the boys for sex between 1989 and 1996.
At Stirling Sheriff Court in November, a jury found him guilty of five charges of using lewd and libidinous practices.
Sheriff William Gilchirst sentenced Murihead to 18 months in prison.
During his trial, the 56-year-old, was described as "a paedophile in the Jimmy Savile mode", who abused his young victims in caravan parks, woods, and in his bedroom, as his own elderly parents sat downstairs.
Respects verdict
Muirhead had previously denied his crimes, but his solicitor, Alistair Milne, said "it was "something he now accepts".
Mr Milne said: "He is intelligent enough to respect the jury and their verdict. He has no previous convictions and he was a teacher for in excess of 30 years.
"He has received letters of support for his position and saying he was a valued teacher
"There has been a significant period since the most recent offence, and there is no evidence of these actions continuing."
Muirhead, from Tillicoutry, targeted the boys over a seven-year period between 1989 and 1996, treating them to outings which were described by Suzanne Hutchison, prosecuting, as being like "every little boy's dreams".
They included go-karting, trips to the Knockhill racing circuit in Fife, drives in "sporty cars", a visit to Navy Day and the airshow at RAF Leuchars, a visit to see the Nimrods in Lossiemouth, Glasgow Motor Show, and Perth Leisure Pool.
But after getting their trust he touched them indecently and performed sex acts on them, and in front of them.
Trust breached
The younger of the two victims, now 31, said he had not told on Muirhead when he was young "because he was a teacher in a position of trust".
He told the court that Muirhead warned him not to tell anyone, saying: "He said it was as much my fault as his, and if it came out I'd get into more trouble."
He added: "It's the same as Jimmy Savile, where it didn't come out because he had a big reputation."
Sheriff Gilchirst told Muirhead he had breached the trust placed in him.
He said: "You were convicted by a jury of serious offences towards these two boys and this involved a breach of trust placed in you by these boys, and by the wider community as a teacher. A custodial sentence is the only disposable possible.
"I have to take into account the impact this had on the complainers".
Sheriff Gilchrist added: "I realise any custodial sentence will have a severe punishment element, but it is the only disposable the court can consider.
"You will also be referred to Scottish ministers to be put on the list of persons unsuitable to work with children."