Clackmannanshire Council to extend electric vehicle use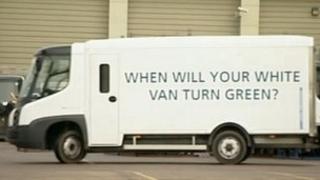 Clackmannanshire Council has begun to replace its transport fleet with electrically-powered vehicles.
Four new electric vans have been bought to help the authority cut its carbon emissions, save money and reduce fossil fuel use.
The vans were purchased following a grant of more than £12,000 for each vehicle.
The council has also installed four charging posts at Kilncraigs and two in the Greenside Street car park.
The electric vehicles were bought with assistance from the Scottish government's Low Carbon Electric Vehicle Procurement Support Scheme.
The funding was allocated to help the authority make up the difference between the more costly electric vans and traditional diesel vehicles.
Zero carbon
Clackmannanshire Council has already purchased two electric road sweepers as part of plans to move towards electrically-powered transport.
Convener of the council's enterprise and environment committee, Councillor Donald Balsillie, said: "There are no carbon emissions from any of these four vehicles.
"Electric vehicles can benefit in so many ways. Not just environmentally, but in improvements to the nation's health and wellbeing, cutting air and noise pollution and, for the individual, lower on-the-road running costs.
"This is clearly the way forward, particularly with the rising costs of fuel."
He added: "We have been introducing electric vehicles into our own fleet for some time now and I want to see them become a regular sight on Clackmannanshire's streets.
"By providing more charging points, we can start to make an electric vehicle not only a clean and economic choice, but a practical option for many more motorists."