MoD to begin clean-up at former Dara site in Perth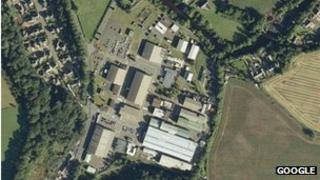 Work to remove radioactive contamination from a former aircraft repair site in Perth is due to begin shortly, the Ministry of Defence has said.
The radiation is linked to the use of radium in WWII aircraft.
The Defence Aviation Repair Agency (Dara) establishment at Almondbank was one of nine sites in Scotland contaminated by the material.
Officials said the clean-up would begin on 21 January.
Radium was used to coat the instrument dials of aircraft and other equipment so that they could be seen in the dark.
'No risk'
The contamination to the land occurred through the use of the 'luminising' paint in the repair and manufacture of planes.
Some forms of radium are highly radioactive, losing about 1% of their activity in 25 years.
It also creates Radon gas as part of its decay.
However, the MoD has insisted the radium poses no risk to public health.
The MoD no longer operates the former Dara site, which was purchased by Vector Aerospace in 2008.
Small volumes
A spokesman for Vector said the clean-up of the site was the responsibility of the MoD, but that they were working closely with defence officials to ensure it was carried out safely.
The MoD said the decontamination was expected to last about 12 weeks and would see the removal of small volumes of radiological material from the ground at five areas within the site.
They added that the work was being undertaken purely for commercial purposes agreed during the sale of the site and that there were no regulatory or human health reasons driving the work.
The MoD said they had consulted the Scottish Environment Protection Agency (SEPA), the Health & Safety Executive (HSE) and Perth & Kinross Council about the process.
Careful disposal
The news was welcomed by the MSP for Perthshire South & Kinross-shire Roseanna Cunningham.
The SNP MSP said she was pleased the MoD was taking action over the contamination.
Ms Cunningham added: "While the material involved may be regarded as low risk it is absolutely right that it should be disposed of carefully and that any material with a significant level of radiation will be safely stored and monitored rather than simply being dumped as happened in the past.
"I hope that local residents and the workforce at Almondbank will be reassured by the information that has been provided and the plans that are in place to deal with this material."