Three flee 'racially motivated' fire attack on Alloa house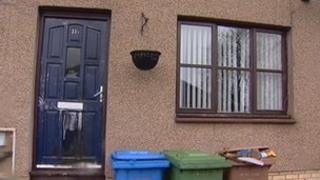 A man rescued from a house fire in Alloa, described as a racially motivated incident, has claimed it is not the first time their property has been targeted.
Jahhan Zaib Tayyab was one of three people who escaped following the blaze at the house in the Earls Court area of Alloa, Clackmannanshire, on Sunday.
Mr Zaib told BBC Scotland a similar incident took place last year.
Fire officers said the three occupants escaped from the house unharmed.
Mr Zaib, 24, said he and two other Asian men in the house woke before 05:00 to find the property was filled with smoke and they could not find their way out.
The fire was started at the front door, blocking the main exit. The men were rescued by firefighters.
Racial element
Mr Zaib said: "It happened before, it happened last year as well, but we didn't complain about it."
He said he hoped those who caused the fire were an isolated minority.
Insp Charlie Mitchell from Central Scotland Police said: "We have some information from one of the occupants of the house which indicates there may be a racial background.
"There has been a previous incident at the property in recent months where damage was caused and we are investigating that the two events may be linked.
"We are exploring a number of lines of inquiry, which are both general and specific, but the possibility of a racial element to the fire is one that is at the top of the agenda."