Police name Perthshire parachute death man as David Ball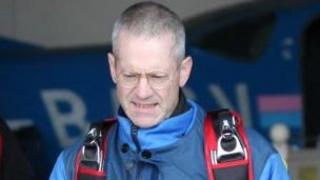 Police have named a 56-year-old parachutist who was killed after a jump in Perthshire.
He was David Ball, from Barnton in Edinburgh.
Tayside Police were called to Strathallan airfield near Auchterarder at around 13:00 on Saturday. It is thought the dead man's parachute failed to open properly.
Representatives of the British Parachute Association have been assisting with the investigation.
A Tayside Police spokesman said: "Relevant inquiries are ongoing into the incident and as with all unexpected deaths, a report will be submitted to the procurator fiscal."
Mr Ball was an experienced skydiver who had posted photographs on Facebook of himself taking part in the sport in various parts of Europe.
He listed himself as being a director of IT at Bank Coop, and a director of his own DCB Consulting Ltd firm.
He had also formerly been employed as a director of IT and procurement at Tesco, the head of group technology at HBOS and as the head of corporate banking at Bank of Scotland.