NHS Tayside to cut surgery provision at Perth Royal Infirmary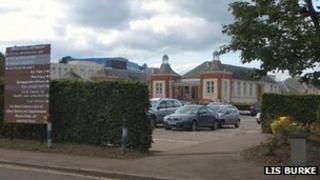 Concerns have been raised about the decision by NHS Tayside to cut the level of emergency surgery provision at Perth Royal Infirmary.
The health board intends to withdraw the availability of the acute surgical unit on Fridays.
Procedures will now be carried out on Monday to Thursday mornings, with patients transferred to Dundee's Ninewell's hospital at other times.
NHS Tayside said 24-hour surgical cover will continue to be provided in Perth.
The change is being made as part of a review of surgical services across NHS Tayside facilities, including at PRI.
'Free up'
The board's associate medical director Dr John Colvin said: "Perth Royal Infirmary currently operates an acute surgical unit from Monday to Friday. Since April 2010, we have been carrying out all weekend emergency surgical admissions at Ninewells Hospital.
"Currently at PRI, there are, on average, five admissions per day to the surgical receiving unit, with only one of these admissions requiring surgery.
"Our consultants and doctors have looked at the numbers of cases and the range of those procedures carried out at PRI.
"Following this review, we are planning to test out a proposal which will free up some theatre time at PRI, allowing us to carry out more elective and specialist surgery at PRI."
Dr Colvin said the change would actually see more procedures carried out at the PRI.
"Our aim is that this increase in surgery at PRI will mean that patients from across Tayside can benefit from reduced waiting times.
"In order for us to achieve this, we are planning to change the availability of the acute surgical unit at PRI resulting in it operating from Monday to Thursday morning.
"It is planned to make this change gradually with careful measurement of safety as was done with the introduction of the current weekend arrangements."
He added: "Although this is only a limited reduction in emergency surgical services from the arrangements in place currently, it gives us the capacity of having another theatre free where more patients can undergo planned surgery each week.
Greater need
Councillor Alexander Stewart, who represents Perth City South ward, said: "I am becoming very concerned about where NHS Tayside is taking PRI in the future.
"Any diminishing of resources at PRI is wrong. Perth & Kinross has a growing population, as well as an increasingly elderly population, with PRI becoming more and more important than ever before.
"NHS Tayside has been accused of massaging statistics to suit themselves in the past and so increasing questions are being asked as to whether they are using figures to justify the removal of services from PRI."
Dr Colvin sought to reassure the public of the board's commitment to surgery at PRI.
He said: "The overall commitment that NHS Tayside is making is that we will provide quality, sustainable, safe surgical services for the people of Tayside.
"In PRI that commitment means we want to build a vibrant, high quality, sustainable, safe surgical unit.
"Patients should also be assured that the service at PRI has, and will continue to have, 24-hour consultant surgical cover."