Police investigate hate crimes on central Scotland trains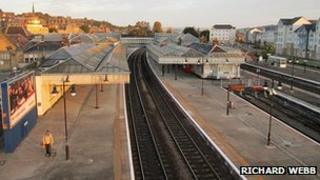 British Transport Police are investigating two unconnected hate crime incidents on board trains in central Scotland.
Both incidents took place on Saturday.
Officers said two men racially abused a man and another couple on the 19:44 Glasgow to Dunblane service.
They are also investigating an attack on a 46-year-old man by a group of five men, after he challenged them over sectarian chanting on the 20:18 Glasgow to Alloa train.
British Transport Police said the men involved in the first incident, which took place at about 20:20, got off the train at Stirling and were both aged between 30 and 40, with very short hair and dark clothing.
Victim injured
PC Ross Falconer said: "I would appeal for anyone who was on the train, at the stations, or has any information regarding the identity of those responsible for this unacceptable and unprovoked racial abuse, to contact me."
The victim of the second incident, who was travelling with his family, suffered a facial injury and a cut to his head but did not need to go to hospital.
His attackers got off the train at Stirling.
One of the men is described as stocky with short brown hair and wearing a khaki body warmer.
A second man was described as being about 50-years-old and wearing dark clothes. A third man was about 5ft 10in and wore a quilted jacket.
Investigating officer Derek Jackson said: "The victim was subjected of a deplorable attack and I am anxious to trace those responsible as a matter of urgency."