At risk Chilean trees to get safe havens in Perthshire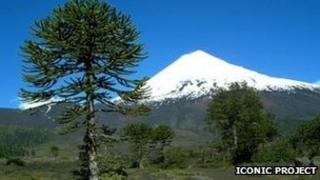 Seed collectors are to travel to Chile to collect specimens from endangered trees as part of an initiative creating safe havens for the plants in Perthshire.
The iCONic Project will see samples taken from local conifer populations in an attempt to secure the trees' future.
Seedlings and young plants will then be brought back to Perthshire.
It is hoped they will eventually be used to restore Chile's native conifer stocks.
The project is being led by Tom Christian and Martin Gardner, an expert in conifer conservation from the Royal Botanic Garden Edinburgh.
Important expedition
They will work alongside Vanezza Morales from the University of Santiago in Chile to look at developing ways of working with local people to secure the long-term conservation of the country's conifers.
Tom Christian said: "Plans for this expedition have been in the pipeline for some time and this will be an important milestone for The iCONic Project.
"The main aim of the expedition is to collect seed from the threatened Chilean plum yew from a valley which is due to be flooded in 2015 as part of a hydro-electric scheme.
"However, we will also be collecting seeds and cuttings from other species which are facing other environmental threats, before couriering them back to Edinburgh where they will be placed into quarantine by an expert team of horticulturists at RBGE."
Hydro-electric threat
The team will visit the valley of San Fabian Alico, the trees there are part of a northern group of conifer populations that are genetically distinct, and several have already been lost due to similar valleys being flooded for modern hydro-electric schemes within Chile.
Martin Gardner said: "One species sadly is highly threatened through hydro-electric schemes; it tends to grow in valleys, by rivers, and is very vulnerable to these new hydro-electric schemes.
"One valley which is going to be flooded in the next couple of years is going to destroy about 200 old growth trees.
"The idea for that species is that we're going to collect seeds and cuttings and send that material back to the Royal Botanic Garden Edinburgh."
The seedlings and young plants will be propagated in Edinburgh before being planted at a range of carefully selected sites within Perthshire and will act as a repository for Chile to draw on in the restoration of its native populations in future years.