Tayside police catch more than 100 speeders in just one week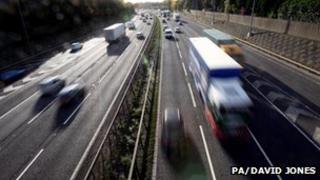 Traffic police caught more than 100 speeders on roads in Tayside in just one week, as part of a Christmas crackdown on driving offences.
Tayside Police said 102 drivers were seen breaking the speed limit between Monday, 17 December and Christmas Eve.
Officers also reported 45 motorists for mobile phone offences and 49 people for seatbelt offences.
Another seven drivers were reported for drink driving and one for driving whilst impaired by drugs.
The force said of those, three drivers had been involved in road traffic collisions; however, none resulted in serious injuries.
The offences were detected as part of a campaign of action by Tayside Police to improve road safety.
'Needless danger'
Chief Inspector Sandy Bowman, head of road policing, said he was concerned that the drink drive message still hadn't got through to everyone.
"There are still far too many drivers that are not taking heed of our safety messages and placing themselves and other road users in needless danger.
"Fortunately the drink drivers we have traced did not cause serious injuries to innocent parties."
He added: "As we approach the New Year festivities, many people will be socialising at home or with friends.
"Whilst our message remains very clearly not to drink and drive, and the vast majority heed that message, there will be some drivers who will be tempted to perhaps have one drink at a friend's house.
"The simple message is do not be tempted, don't risk it."