Council to push ahead with purchase of former Alva hotel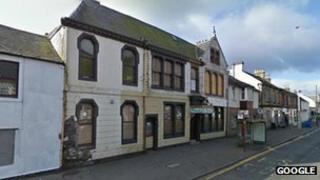 Clackmannanshire Council is to push ahead with plans to buy a former hotel in Alva as part of plans to regenerate the town.
The authority is to proceed with a compulsory purchase order for the former Alva Glen Hotel.
An offer made last month by the enterprise and environment committee to the building's owners was rejected.
The council said it would continue negotiations with the owner while plans for the purchase were drawn up.
A report to committee had advised that the district valuer had assessed the property as having a "nominal" value but that an inflated offer had been made based in the hope of avoiding the need for a compulsory purchase.
'Dangerous eyesore'
Council leader, Councillor Gary Womersley, said: "It is perhaps not surprising that the offer has been rejected, given that the owners appear to have a very inflated view of the current value of their property.
"It has been suggested to them that they should consult their own professional advisers and in particular obtain their own valuation of the property from surveyors experienced in the valuation of local commercial property.
"The former Alva Glen Hotel has become a dangerous eyesore and there is little to be gained in prolonging unproductive negotiations if the council is prepared to go down this route."
Councillor Womersley added: "Further evidence of the continuing deterioration of the condition of the building is the recent direct action the council has taken in respect of a dangerous chimney on the property.
"That said, given the amount of time that the compulsory purchase process can take, we have agreed to make a compulsory purchase order at an early stage whilst in parallel continuing to seek to acquire the property by negotiation.
"As such, we have left the door open if the owners change their minds and decide to sell."
The maintenance of the Alva Glen Hotel has been an ongoing issue for the authority for several years.
Several dangerous building notices have been lodged against the owners and in May 2009 police found a £350,000 cannabis farm inside the hotel.
In 2008, Clackmannanshire council put forward pans for a compulsory purchase order of the property but that move was delayed by the implementation of the local development plan.