Fire crews tackle blaze at Oran recycling centre in Kilbagie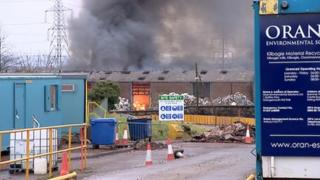 Up to 60 firefighters have been tackling a blaze at a recycling centre in Clackmannanshire.
Crews were called to Oran Environmental Solutions' plant at Kilbagie Mill, a mile north of Kincardine, just after 08:00 on Thursday.
The blaze broke out in a large warehouse containing clothing, mattresses and waste paper.
No-one was hurt in the blaze, but motorists have been warned about smoke blowing across nearby roads.
Central Scotland Police urged drivers to reduce their speed on the A876 near the Kilbagie and Higgins Neuk roundabouts.
Central Scotland Fire and Rescue Service said nine of the 17 appliances which had been called out were still on the scene.
The brigade said the incident was under control, and that crews were using protective spray jets to protect surrounding properties.
Chief Fire Officer Kenneth Taylor said: "Given the scale of combustible material involved it's likely this incident will be protracted, with crews having to remain on scene over the next day or two for damping down.
"We do hope, however, to be able to make inroads over the next few hours in order that we can reduce the extent of the smoke plume.
"We are working with all our partners - including, the police, Sepa, representatives from Oran, Scottish Power and Clackmannanshire Council - to assist in bringing about a resolution."