James Hutton Institute warns potato famine fungus 'still dangerous'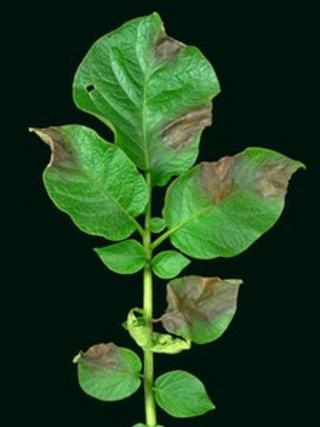 A study by scientists at the James Hutton Institute in Dundee has warned the organism responsible for the Irish potato famine is still a major threat.
Researchers have said new strains of Phytophtora infestans were a particular threat to farming in Africa and Asia.
The study's leader Dr David Cooke found modern forms of the pathogen are increasingly difficult to manage.
The team said the results showed the need for strategies to protect potatoes from disease.
Phytophtora infestans is a fungus like organism that causes late blight in potatoes. It infects leaves, stems and tubers and can cause devastating crop losses.
DNA testing
Late blight was a major factor in the 1840s European, the 1845 Irish and 1846 Highland potato famines. The organism can also infect tomatoes
The team at the James Hutton Institute, the Sainsbury Lab and other partners, used DNA-based forensic analysis, to map out the emergence and spread of highly aggressive lineages of the pathogen.
Dr Cooke said: "Pest and pathogen losses jeopardise global food security, as proven by the devastating spread of late blight across European crops back in 1845.
"The new lineage raises a worldwide food security issue as it has already spread beyond Europe, where it was first detected, to North Africa, India and China, threatening the livelihoods of communities relying on potato for food and income.
"The disease proved more difficult to control due to a combination of increased aggressiveness, an ability to overcome some sources of cultivar resistance and its resistance to a key fungicide."
Disease control
Dr Cooke said the potential threat of the pathogen was something that needed to be considered,
He said: "Total crop failure is, fortunately, a thing of the past as the potato industry is armed with knowledge on the pathogen activity, improvements in host resistance and, most importantly, a range of effective fungicides.
"Nonetheless, growers must remain alert; in a very wet summer such as 2012 any weakness in the control strategy is exploited by the pathogen resulting in severe crop losses."