New artwork for Falkirk and Grangemouth green space project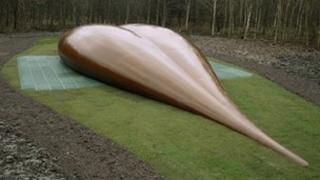 A project to transform the outdoor space between Falkirk and Grangemouth has welcomed its first permanent piece of art.
The Abbotshaugh Sentinel was created by artist Jephson Robb and will sit in the heart of the Abbotshaugh Community Woodland, north of Falkirk.
Commissioned in September 2010, the sculpture is based on a laurel leaf.
The artwork is part of the Helix project which aims to transform local green spaces.
Made from Corten steel, the large-scale sculpture can only be reached using the new network of woodland paths created as part of the wider project.
The Abbotshaugh Sentinel project was led by a community client panel comprised of Langlees and Bainsford residents, who helped in the design and construction of the sculpture.
Healing sculpture
Mr Robb said the laurel leaf was chosen as a basis for the design to reference Falkirk's rich Roman heritage, he also said the leaf's role as a victory symbol was particularly apt, given the local community's success in regenerating the area's woodland.
He said: "I see the finished sculpture as being fundamentally about healing and from this day forward, the Helix will become part of this ongoing healing process.
"The sculpture has been designed as a scar: in other words, a healed wound. But when viewed from certain vantage points the sculpture takes the form of a heart, and when viewed from above, or from Google Earth, it resembles a pair of lips.
"The shapes contained within the sculpture have therefore informed the title of the piece, Love and Kisses."
Early arrival
Mike King, programme director for the Helix, said: "I'm delighted that a sculpture, which was originally due to be installed in 2013, is now making its entrance in 2012 as part of the Year of Creative Scotland celebrations.
"This momentous achievement is down to the commitment and enthusiasm of everyone involved in bringing the Abbotshaugh Sentinel to fruition - the local community groups, the client panel, the artist, the designers, manufacturers, contractors and Helix project partners."