Huntly lorry driver killed by unstable boards at Cowie factory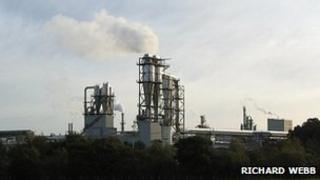 An Aberdeenshire lorry driver was crushed to death at a Stirlingshire factory after a pile of poorly stacked chipboard toppled.
A fatal accident inquiry heard Russell Wilson, 24, was killed in 2008 when the panels fell over at the Norbord woodchip factory in Cowie.
In her written determination, Sheriff Fiona Tait said the way boards had been placed was "intrinsically unstable".
She said proper stacking of the panels would have prevented Mr Wilson's death.
The FAI heard the boards had been stacked poorly, with narrow ones at the top of the first layer and larger boards on top.
Properly stacked
Sheriff Tait said the boards could have "sprung" as tension was released on the strap which was securing it.
She said the strap should have been capable of being removed without the stack collapsing, and Mr Wilson's death could have been avoided if the sheets had been stacked properly.
Mr Wilson, an HGV driver from Huntly in Aberdeenshire, was found dead under the fallen stack by colleagues on 23 April, 2008.
He had suffered fatal head, neck and chest injuries after the pile collapsed.
Stirling Sheriff Court heard that Mr Wilson, an employee of Aberdeenshire based Harpers Transport, which also has a base at the Norbord factory, had been due to sleep in his cab overnight at Norbord the previous night.
Preventable incident
Sheriff Tait said: "From the evidence I conclude that Mr Wilson was fatally injured when struck by a toppling load of chipboard as he removed a lashing strap from a trailer load of stacked chipboard.
"The stacks were intrinsically unstable. I accept that Mr Wilson as a lorry driver had no authorised purpose in attending at the trailer and every indication is that Mr Wilson was present in an attempt to remove the lashing strap for his own use.
"Nonetheless, and as reflected in the submissions of both the Crown and on behalf of Harpers Transport, the strap should have been capable of being removed without the stack collapsing."
She added: "I have no hesitation in finding that a reasonable precaution whereby Mr Wilson's death and the accident resulting in his death might have been avoided would have been for the chipboard which collapsed onto Mr Wilson to have been loaded in such a manner that it was stable and so would not collapse."
Sheriff Tait also found a number of defects in the system of working at the plant, which she said contributed to the accident.
Harpers Transport was fined £8,000 last March after pleading guilty at Stirling Sheriff Court to failing to ensure its workers were not exposed to the risk of injury or death.