New V&A at Dundee plans are to go public display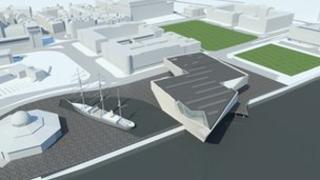 The public are to be given the chance to see the latest plans for the V&A museum at Dundee at an exhibition in the New Year.
Drawings of the new site, plus the latest animation, will be on display at the University of Abertay on 17, 18 and 19 January.
The plans have been altered following the decision to move the building further on to the shore.
Work on the £45m project is scheduled to begin in 2013.
The public is being encouraged to share their views on the new design with exhibition staff across the three days.
Refined design
Philip Long, director of V&A at Dundee, said: "I am very excited about the latest plans for the project and I look forward to sharing these with the public in January.
"Our architect Kengo Kuma was here in Dundee last week to present us with the latest refinements to his vision for the building.
"In tandem with developing the designs for the building, we are continuing to make very good progress on the content and programme for the wider project, which will have an impact right across Scotland and beyond. The consultation provides a great opportunity to share these plans with the public too."
A new planning application for the project has been lodged with Dundee City Council, ahead of a full revised planning application which will take into account the move further inland.
The revised plan has been met with approval from Mr Kuma, who said the move will create an even greater connection between the project and the surrounding environment, including the RRS Discovery, the new railway station and on to the city centre.