Clackmannanshire to ask for court closure alternatives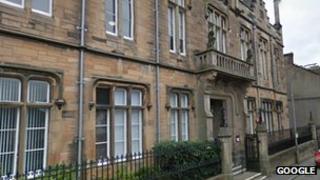 Clackmannanshire Council is to formerly ask the Scottish Court Service to discuss the possibility of establishing a co-located court site within Alloa.
Alloa Sheriff Court is one of 11 sheriff courts marked for closure across Scotland.
SCS claim its closure could save £37,000 a year.
If the court was shut, Clackmannanshire would be the only local authority in Scotland not to have a Sheriff Court within its administrative area.
The planned closure of Alloa Sheriff Court and Justice of the Peace Court would see the transfer of sheriff and jury cases from Alloa Sheriff Court to Falkirk Sheriff Court and the move of summary criminal and civil court business to Stirling Sheriff Court.
Logistical problems
Council leader councillor Gary Womersley said: "The implications are huge. At present there is almost instantaneous access to services for those convicted of offences and given a community based disposal.
"Criminal Justice staff are present within Alloa Sheriff Court, or can be requested to attend at short notice due to their close proximity, resulting in a speedier access to services.
"Moving solemn cases to Falkirk Sheriff Court and summary cases to Stirling Sheriff Court may seriously compromise the Criminal Justice Service's ability to comply with the national guidance on post sentence speed immediacy due to logistical problems for staff."
In September this year, the SCS launched a public consultation process outlining proposals for the future structure of court provision in Scotland.
Public opposition
The council has since been inviting the public to submit their views on the plans. Those are to be included in Clackmannanshire Council's formal response to the SCS.
Of the responses, 93% have opposed the plans.
Councillor Womersley added: "This will inevitably impact upon the service delivery to Clackmannanshire with key-workers required to be out with the area.
"There is also a potential reduction, or delay, in access to court for 'emergency orders' such as child protection orders, warrants for Environmental Services and Mental Health Teams.
"And of course a potential loss to Alloa Town Centre and its regeneration."
Over the past financial year Alloa Sheriff Court dealt with over 743 requests for reports, 400 Community Supervision Orders and 466 requests for Bail information.
Councillor Womersley concluded: "There is a real concern that Stirling Sheriff Court would not have the capacity to deal with this level of business."