Man jailed for role in cruel attack on Perth pensioner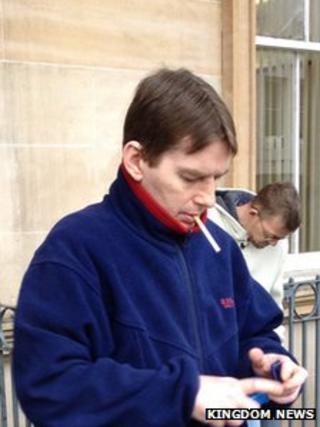 A thief has been jailed for four years for his part in torturing a Perth pensioner in his own flat.
The High Court in Edinburgh heard how Alasdair Thorburn was gagged with cling film, hit in the face and had a cigarette stubbed out on his cheek.
The trial heard Mr Thorburn was attacked by another man as Raymond Moir, 49, shouted encouragement.
Jailing Moir, Judge Lord Turnbull said he accepted Moir did not instigate the attack, but did participate.
The court heard that they pair tortured Mr Thorburn with a cigarette and demanded to know his bank PIN number.
Attacked by intruders
The 67-year-old said: "They ground it right into my cheek bone. That's when I gave them the number. I decided I would rather lose some money than lose an eye."
He said he fell asleep in his chair after drinking in a nearby pub and was woken by two men in his flat.
He was "smacked about" by another man as Moir encouraged him. Mr Thorburn's lip was cut, he lost a tooth and his cheek was burned.
Moir, from Perth, denied assault and robbery in Mr Thorburn's flat in Perth's High Street, claiming accomplice Michael McLelland, 44, had forced him to take part.
Not responsible
But a jury found him guilty of the attack on 3 June last year and robbing Mr Thorburn of bank cards, jacket and other items.
Moir also used the victim's bank card to withdraw £250 from a cash machine.
Defence advocate Kevin McCallum said Moir still maintained his innocence and added that the 49-year-old felt sorry for what happened to Mr Thorburn but he himself was not responsible.
Jailing Moir, Lord Turnbull told him he was prepared to accept that the other man was the prime mover.
He said: "I accept the physical violence was inflicted by him, but you were found responsible for participating in a serious attack on an elderly gentleman in his own home."
Lord Turnbull also noted that McLelland, who has already been sentenced after admitting the attack on Mr Thorburn, had a worse criminal record.