Falkirk Council to crackdown on illegal alcohol over Christmas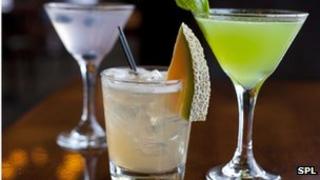 Falkirk Council has taken steps to ensure revellers are served exactly what they ask for in licensed premises over the holiday period.
Environmental health staff are to carry out inspections at clubs and bars across the area over Christmas.
Inspectors will make random, on the spot, checks to ensure any spirits sold are what they claim to be.
Licence holders found guilty of mis-selling alcohol face a £5,000 fine or three months imprisonment.
Samples taken during the spot checks will be sent for analysis to see if the alcohol has been watered down.
Smuggled alcohol
The council has warned that should results indicate mis-selling of alcohol, they will launch enforcement action against the owners of the premises.
Councillor Dr Craig R Martin, convener of community health and safety said: "We want everyone to have a very happy and safe festive period however we are aware of a recent increase of cheap, falsely branded alcohol being smuggled into the UK.
"These are often inferior products and may be harmful to your health. Don't let yourself be exploited.
"While our visits will be random, if consumers suspect they are not being sold what is stated they should contact our environmental health team and alert them."