Fast internet for more Scottish communities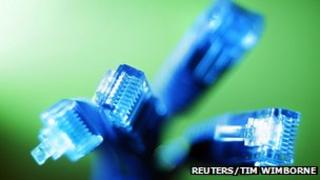 More homes and businesses across Scotland have been given access to a faster internet connection following cable upgrades.
About 80,000 people will be able to access high-speed broadband as part of an £8m investment by BT.
The new infrastructure will allow internet users to achieve download speeds of up to 20 megabits per second.
The improved copper wire broadband has now been rolled out to 1.7m Scottish properties.
The latest series of upgrades cover communities in Aberdeenshire, Angus, Clackmannanshire, Dumfries and Galloway, East Dunbartonshire, Fife, North Ayrshire, the Scottish Borders and West Dunbartonshire.
Seven locations in the north of Scotland - Alness, Dingwall, Invergordon, Tain, Thurso, Lerwick and Kirkwall - have benefitted from the investment as part of wider efforts to improve links in the Highlands and Islands.
Essential investment
Infrastructure Secretary Nicola Sturgeon said: "Broadband, just like roads and railways, is a vital part of Scotland's infrastructure.
"I very much welcome this latest announcement from BT. It is essential that households and businesses everywhere in Scotland have access to high-speed connectivity to enable our economy to thrive."
Brendan Dick, BT Scotland director, said: "Increasingly, broadband is an essential part of everyday life, whether you're Christmas shopping online, sharing photographs and videos with the family, working in an office or as a homeworker, improving your education or just wanting to download a film or programme online.
"It has the power to transform every aspect of our lives and is a vital part of ensuring the future prosperity of communities across Scotland."