Digital art initiative moves into new Dundee studios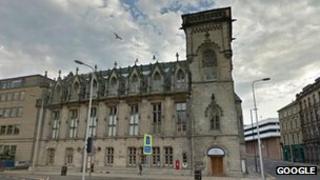 An initiative that brings together creative workers in Dundee is hoping to cement the city's role as a centre for the digital arts.
The Fleet Collective has moved into new studios and offices in Dundee's Old Chamber Building, allowing it to double the number of artists it supports.
An additional nine new work spaces and studios have been created.
Fleet was set up in 2011 and provides a focus for the city's digital artists.
The collective said the new facilities would allow artists from a range of backgrounds to come together on a highly flexible basis, enabling them to work collaboratively and to pursue individual projects.
Great potential
Lyall Bruce, Fleet co-founder and director, said: "We are working to give the digital arts an increasingly important and dynamic role in the future of Dundee.
"The city is already renowned for its success in the computer games sector, but it can achieve so much more.
"The digital and computer driven arts are transforming cultural and economic life and Dundee can play a leading role in this transformation."
Mr Bruce said the new studios would give the digital arts in Dundee a massive boost.
"There's so much talent here and we are dedicated to bringing it together to maximise its impact in Scotland and overseas."