Man faces jail after attacking Dundee bus with pitchfork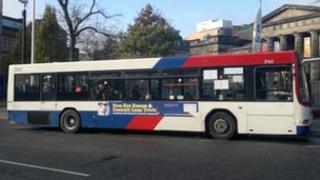 A man who tried to puncture the tyres of a bus outside a Dundee hospital using a pitchfork has been told he faces jail.
Gordon Duncan pleaded guilty to breaching the peace on 23 July.
Dundee Sheriff Court was told the 55-year-old attacked the bus when he was thrown off the service for carrying the garden tool.
Sheriff Richard Davidson deferred sentence until January for background reports
The court was told Duncan began battering the glass separating the driver from passengers with his hand after he was told he couldn't get on the bus with the pitchfork.
He then got off and started smashing the fork off the side of the bus, before witnesses saw him trying to stab the front tyres with the tool.
Alcohol involved
Police were called - with Duncan later telling them: "I just wanted to get the fork home."
Duncan's lawyer said he had borrowed the tool from Dundee College and was trying to take it to a church in the city where he was going to help a minister on an allotment.
Fiscal depute Isma Mukhtar told Dundee Sheriff Court: "At around 2.15pm the bus driver saw the accused board her bus carrying a garden fork and he appeared to be under the influence of alcohol.
"She recognised him and recollected he had previously fallen from a bus causing himself some injury.
"She didn't prevent him from boarding initially but fearing a disturbance she informed the accused he wasn't allowed on the bus in possession of the fork.
"He began banging on the security door. The accused stepped off and continued to shout at the driver, thrusting the fork in her direction and shouting 'you're getting it'."
Heading home
The court was told when he began hitting the bus with the fork, the driver contacted police.
Ms Muktar said: "Other persons standing at the bus stances saw the accused trying to burst the tyres with the fork. He eventually got off and walked slowly away.
"Police found the accused carrying the fork and walking. He was stopped and was clearly under the influence of alcohol.
"He told the police in interview 'I just wanted to get the garden fork home'."
Duncan, from Dundee, pleaded guilty to a charge of breach of the peace. His not guilty plea to a charge of possessing an offensive weapon was accepted by the Crown.