Scottish Water plan Angus wind farm to meet energy needs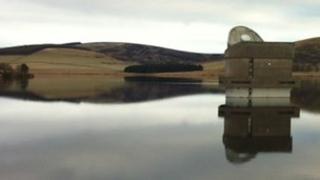 Scottish Water has announced plans to generate its own electricity by building an 18-turbine wind farm on land near Kirriemuir in Angus.
The Macritch Hill project at the Backwater Reservoir has the potential to generate 142GWh per annum.
Scottish Water said the wind farm could supply then with up to a third of its annual energy needs.
The utility company is aiming to become self-sufficient in its energy use.
Scottish Water will work with Eneco Wind UK to develop the plans for the turbines.
Natural progression
A consultation period on the proposal will be launched shortly in conjunction with a series of Environmental Impact Assessments and technical surveys to determine the overall scale and design of the wind farm
Chris Banks, commercial director at Scottish Water, said: "As one of Scotland's biggest consumers of electricity, the generation of renewable energy on appropriate sites is a natural fit for Scottish Water.
"We want to become increasingly energy efficient while helping to meet Scotland's ambitious renewable energy targets.
"That's why we are exploring the feasibility of renewable energy development on suitable Scottish Water land."
Stable prices
He added: "Macritch Hill in Angus is a site which has been identified for possible development and has the potential to generate up to a third of Scottish Water's annual energy requirement.
"The more Scottish Water commits to renewable generation on its own assets at stable future prices the more efficient we become and that can only be good for all our customers across Scotland."
Guy Madgwick, Director of Eneco Wind UK, said the firm was keen to work on the Macritch Hill project.
"At present, Eneco is investing heavily in renewable projects which mirrors the strategy adopted by Scottish Water and at national level by the Scottish government.
"As a company, we have an ambition to ensure that all the energy we produce will be completely sustainable by 2030 and it is through partnerships such as this that we hope to accelerate progress towards this goal."