Engineers complete upgrade to Dundee's internet connections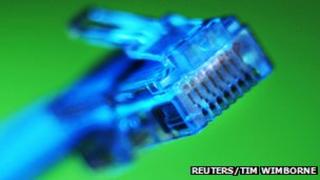 More than 12,500 homes and businesses in Dundee have gained access to high speed broadband after engineers completed an upgrade of the local infrastructure.
New fibre optic cables have been installed around Dundee's Fairmuir exchange.
The upgrades will allow internet users to access download speeds of up to 80Mbps.
It is part of £2.5bn investment in the country's broadband network by BT.
The work at Dundee Fairmuir, which covers areas of the city including Downfield, St Mary's, Ardler and Bridgefoot, will benefit 12,600 properties.
Further upgrades
The upgrade follows works to Dundee Broughty Ferry and Dundee Park, where the fibre cables are already available.
BT said Dundee Baxter is also due to be upgraded and by the end of next year nearly 39,900 homes and businesses across the city will see their local infrastructure improved.
Brendan Dick, BT Scotland director, said: "BT's fibre network is expanding across Dundee City, bringing a boost for local economies wherever it goes.
"Research suggests that within 15 years fibre broadband could bolster the economy of a typical city by £296m boost and create around 430 new jobs and 320 new start-up businesses.
"The arrival of fibre in Dundee Fairmuir can really help local firms in these economically challenging times, opening up new ways of working and speeding up vital operations, such as file and data transfers, conferencing and computer back-up, all of which may also help cut costs."
Faster downloads
The increase internet speeds are achieved through the use of fibre-to-the-cabinet (FTTC) technology, where the fibre runs from the exchange to a local roadside cabinet.
FTTC offers download speeds of up to 80Mbps and upload speeds of up to 20Mbps and has the potential to deliver even faster speeds in the future.
Dundee City West MSP Joe FitzPatrick said: "I'm delighted that homes and businesses in my constituency are to benefit from high-speed fibre broadband in the next few weeks through BT's £2.5bn fibre roll-out programme.
"Dundee will benefit enormously from superfast broadband. It will be very helpful to our digital and creative industries and the computer games sector."