Report on Dundee's Ninewells Hospital says wards are clean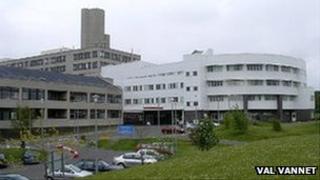 A health inspectors' report, following an unannounced visit to Ninewells Hospital in Dundee, has said all wards were clean and well maintained.
The Healthcare Environment Inspectorate (HEI) carried out an unscheduled visit on 30 and 31 October.
The report also said staff adhered to the uniform code and that the infection control team was clearly visible.
However, HEI called on the hospital to improve how they document catheter maintenance.
HEI also made four recommendations of where the hospital could improve; the management of sharps, a risk assessment of the provision of showers on ward 38, better use of schedules for cleaning patient equipment and the introduction of a formal process to record the minimum and maximum temperatures of drug refrigerators.
Sharps management
Susan Brimelow, HEI chief inspector, said: "This was a good inspection and we are assured that NHS Tayside is making good progress to protect patients, staff and visitors from the risk of acquiring an infection.
"Wards were clean and well maintained, and the infection control team was clearly visible and accessible to ward staff for advice and support.
"We did find some areas for improvement, including a need to review staff's knowledge of managing sharp instruments."
NHS Tayside said it welcomed the report and had already developed an action plan to respond to the recommendations.
Nurse director, Dr Margaret McGuire, said: "We are very encouraged by the HEI report, especially the comments made by the inspectors on how clean they found the ward areas.
"This demonstrates the work and commitment of all our staff in order to improve the environment for our patients.
"The inspection team also highlighted good practice in other areas such as senior charge nurses demonstrating good leadership in infection control, good compliance with hand hygiene procedures and good compliance with the requirements of mandatory monitoring for infections."