Tayside Police search for CS canister lost in chase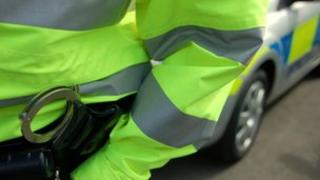 Police in Dundee are trying to trace a CS canister which was lost by an officer who was chasing vandals.
Tayside Police said the spray became detached from an officer's utility belt during a pursuit in the St Mary's area at about 19:00 on Wednesday.
The officer had been in Laird Street after tracking down a group of youths who were believed to have caused vandalism and started a fire.
Officers are now carrying out searches and reviewing CCTV footage.
Tayside Police said the officer gave chase after the youths ran off.
The officer followed them through a number of streets including St Boswells Terrace, St Kilda Road, St Kilda Terrace, St Fillans Road, Birkdale Place, Hoylake Avenue, and across a football pitch at Gleneagles Avenue.
It was only when one of the youths was detained that it was noticed the canister was missing.
Missing canister
Tayside Police said it was thought that someone, possibly a teenager, may have picked it up near St Boswells Terrace.
Officers are now keen to trace that person.
A police spokeswoman said the officer should be commended for his determination to trace the suspected vandals.
"Unfortunately, in this instance the canister appears to have broken away from his utility belt during the pursuit and we would urge anyone who finds the CS canister or holder, or who knows where it is now, to contact Tayside Police," she said.
"The CS is contained in a small grey metal canister with a grey top which is around four inches high and one inch in diameter.
"It has the words 'CS incapacitant' on it together with 'Police use only, if found return to a police station' and contains warnings that the spray is flammable and an irritant. CS spray is potentially dangerous if used by untrained personnel."