What's in a street name?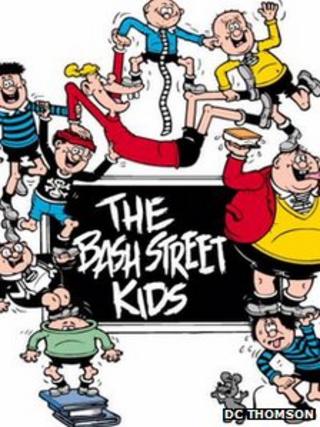 A plan to name a street in honour of the most badly behaved school pupils in the UK - comic characters the Bash Street Kids - is to be considered by councillors in Dundee. So how are streets named? What needs to be considered and what can the choice reveal about wider society?
The conventional wisdom may be that you should not reward bad behaviour.
But almost 60 years after the kids first created mayhem in the Beano, Dundee-based publisher DC Thomson has asked the city's council to create a Bash Street next year.
"I think it's a great idea," says a man in Dundee city centre.
"I think it's what Dundee has been needing for a long time," he adds.
"After all, the comics are one of the biggest things to come out of Dundee."
If councillors give the go-ahead, Bash Street would become a reality in time to mark the 75th anniversary of The Beano comic in 2013.
But how does the process of naming a new street actually work?
There are practical things to consider, such as checking it is not a duplicate and will it be easy for the emergency services, a taxi firm, or the post office to find it? But then there is also something much less tangible at work.
"Something that's really relevant and adds to the culture of the city," says Mike Galloway, the director of city development for Dundee City Council.
"Particularly when you're naming streets in new housing developments, sometimes you get concerns expressed about certain names, so we've got to be careful in what we do, but we don't want to name everywhere Dingley Dell.
"It's got to have some meaning, some local character to it and when you think of some of the historical street names in Dundee, places like Peep-o-Day Lane and Beefcan Close and Sinderins - they're really unique names that you wouldn't find anywhere else in the world."
But naming a street can also be highly political and controversial.
In 1986, Glasgow council renamed what had been St George's Place as Nelson Mandela Place.
At that time, the South African consulate was housed in the street and it had become the focus of picketing by campaigners.
"The symbolism of renaming the street in which the South African consulate sat," recalls Brian Filling, who was chair of the Scottish Anti-apartheid movement, "actually proved to be a very effective contribution to isolating the regime.
"Yes, it was controversial at the time but now it's actually a proud thing for Glasgow.
"In a few short years, the way he (Nelson Mandela) was regarded was very different, from being a terrorist to being President and it's now a tourist attraction.
"People pass it and ask the question, why was this street named Nelson Mandela Place?"
But what about when you are starting almost from scratch? Between the 1940s and the 1960s, new towns in Scotland were built in places like East Kilbride, Glenrothes and Cumbernauld, in an effort to help solve housing problems in the cities.
Many of the streets in the new communities were named after landmarks in the wider area.
"I think there was a strong feeling that this was a way to fit them into the pre-existing landscape," says local history writer, Elspeth Wills.
But when it came down to individual streets and areas there were often themes, like trees, glens, rivers or famous Scots.
Bringing a sense of place to the new was also behind the naming of a street in a new housing project in Paisley.
"Gerry Rafferty Drive," recognises one of the town's most famous sons, the musician Gerry Rafferty, who died last year.
"The people who were the Gerry Rafferty fans were passionate about his work and he was passionate about Paisley," says former councillor, Mike Dillon.
He hopes the site might become a tourist attraction, something akin to the Abbey Road sign made famous by The Beatles.
"People will stand next to Gerry Rafferty Drive to get their picture taken. That means more than just calling it High Street, or Side Street or whatever.
"It's giving it something that will mean so much to so many people."