Falkirk farmer's death sees 60 animals taken into care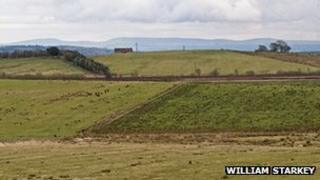 Animal welfare inspectors have recued 60 animals from a farm near Falkirk following the death of their owner.
Police were called to Windyrigg Farm in Standburn last Thursday following the sudden death of the farmer. His wife has been taken into hospital.
Officers said there appeared to be no suspicious circumstances.
The Scottish SPCA said 60 animals, mainly livestock, had been taken into care for welfare reasons, and that their inquiries were ongoing.
Unfortunate circumstances
Scottish SPCA Chief Inspector Paul Anderson said: "We are currently investigating an incident at premises in the Falkirk area.
"Sixty animals have been taken into our care and our enquiries are ongoing."
The Scottish National Farmers Union said it appeared to be a very unfortunate set of circumstances.
The union has urged farmers to contact them or neighbours if they need help to look after their livestock.