Results of Tayside gene tests help find heart disease link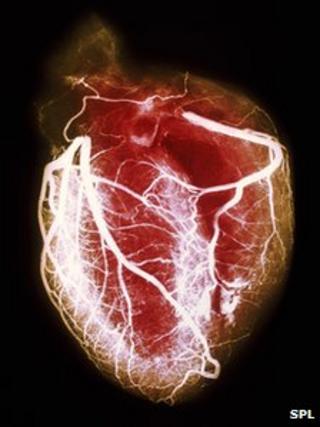 Researchers have identified 15 new genes linked to coronary artery disease following an international study, which involved the genetic testing of 6,000 people in Tayside.
It means a total of 46 genes which increase the risk of the disease have now been found.
Coronary Artery Disease (Cad) is one of the most common causes of death in the world.
The study was carried out by more than 180 researchers from across the world.
It was the largest study of its kind into Cad, and was carried out by the CARDIoGRAMplusC4D Consortium.
Worldwide study
Scientists also identified a further 104 independent genetic variants that are very likely to be associated with the disease, enhancing the knowledge of the genetic component that causes Cad.
Those taking part in the worldwide study included 6,000 participants of the GoDARTs genetic study in Tayside.
That research was led by Prof Colin Palmer, chair of Pharmacogenomics at the University of Dundee.
He said: "This work is a huge achievement. Getting such powerful genetic analysis in over 200,000 genetic variants in 200,000 people is tricky but necessary and this is now starting to yield powerful tools to personalise treatment and aid prevention of coronary artery disease.
"A lot of this work reinforces the importance of lowering cholesterol as a powerful preventive measure, and information from individual novel genes may lead to improved medicines in the future.
"Without the public volunteering for these genetic studies progress would not be possible. The Tayside population has proven very enthusiastic to take part in these studies, and currently around one in ten members of the public in Tayside are enrolled in genetic studies."
The international team analysed DNA from over 60,000 Cad cases and 130,000 apparently unaffected people.
After studying the genetic findings, researchers found that the metabolism of fats was the most prominent mechanism for creating molecules that led to Cad.
The second most prominent mechanism, however, was inflammation which provides evidence at the molecular level for the link between inflammation and heart disease.
Prof Peter Weissberg, medical director at the British Heart Foundation, which co-funded the research, said: "This latest research further confirms that blood lipids and inflammation are at the heart of the development of atherosclerosis, the process that leads to heart attacks and strokes.
"These studies don't take us any closer to a genetic test to predict risk of heart disease, because this is determined by the subtle interplay between dozens, if not hundreds, of minor genetic variations.
"The real value of these results lies in the identification of biological pathways that lead to the development of heart disease. These pathways could be targets for the development of new drug treatments in the future."