Palace Hotel in Aberfeldy bought by local business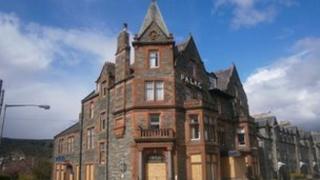 A former hotel in the Perthshire town of Aberfeldy is to be turned into shops and flats after being bought by a local business.
Girvans of Aberfeldy bought The Palace hotel in Breadalbane Terrace for more than £150,000.
The purchase of the B-listed building has been tied in to the sale of Girvans' current premises in the town.
That deal has allowed the Co-op store to re-locate to a new 12,500 sq ft supermarket in Aberfeldy.
Girvans said they plan to renovate The Palace, to accommodate a mix of commercial and residential uses, subject to planning permission.
The Girvans said: "We are very happy to have secured the premises and are looking forward to the challenge ahead in refurbishing 'The Palace', as well as the exciting revival of the east end of the town that is currently taking place."