Stirlingshire fraudster Michael Voudouri skips court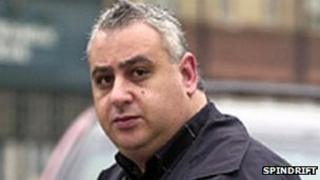 A warrant has been issued for a convicted money launderer after he failed to appear at the High Court in Glasgow for sentencing.
Michael Voudouri, from Bridge of Allan, previously admitted claiming back VAT on bogus transactions through Glasgow-based Q-Tech Distribution Limited.
The 45-year-old filtered more than £10m through bank accounts in Cyprus, Greece and Switzerland.
His lawyers said they had tried to contact him without success.
Voudouri pled guilty to charges last month and was granted bail despite having a previous conviction for VAT fraud.
No contact
His defence said they did not know where their client was.
Lawyer Vincent Belmonte said: "I have tried to contact him without success and he has not contacted me.
"I have telephoned the family home and was told that he had gone to England to contact his English solicitors.
"The English solicitors said they have not heard from him. The last time I heard from him he was extremely depressed and in a low mood."
Prosecutor Peter Ferguson QC moved for a warrant for his arrest, which was granted by Judge Lord Tyre.
This latest case centred around the "proceeds of criminal conduct" of Q-Tech Distribution Limited.
Concealed funds
Q-Tech are said to have made a fortune by claiming back VAT on false Europe-wide business transactions in a scam known as carousel fraud.
Prosecutors said Voudouri was involved in funds being concealed and "removed from the jurisdiction of the Scottish Courts".
He set up bank accounts in Greece and Cyprus as well as limited companies across the globe to keep the cash away from the authorities.
Voudouri had been accused of laundering a total of £48.2m of money from Q-Tech.
But the Crown accepted a guilty plea after the sum was reduced to £10.3m.
He also admitted a separate charge of hiding £1.2m of dirty cash while he was serving a sentence in HMP Glenochil.